A Perfect Shot
Making the case requires great visual supporting evidence. We understand how to elucidate the point with pictures.
Environment
Measuring interior environmental conditions requires proper equipment. Relative humidity, temperature, and moisture content of building products are all intertwined to determine performance and longevity of projects.
Precision
Our tools and inspection instruments are how we accumulate data. We ensure they remain calibrated and in working order so that we can provide accurate reports to our clients.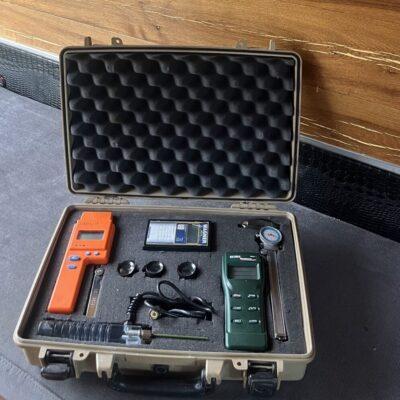 Speaking Experience
The origin of my exposure to public speaking and training began winter of 1997. I supported my expenses during graduate school as a teaching assistant in Biology. I wrote a thesis during this time and defended it before a committee of scientific colleagues.
While operating my flooring businesses, I learned the art of crystal clear communication. I attended the National Speaker's Association Fast Track program on the advice of a colleague while in Portland, Oregon. During this course I met an expert of NLP (Neuro-Linguistic Programming) and took a training. It was revolutionary for my understanding of interactions with people and communications.
Coincidentally, my childhood was spent learning to be an equestrian as well. Growing up on a farm, I learned non-verbal communication, subconscious body language, and developing trust.
While operating my businesses, I trained all employees on premium hardwood floor installation, sanding, and finishing. My largest audiences have been while speaking on content marketing at National Wood Flooring Association conventions.
Inspections
Comparing facts and evidence to guidelines.
Technical Reports
We know succinct and science and how to write.
ASTM Testing
Testing for product manufacturing defects.
Guidelines
We write installation guidelines.
OUR PROCESS
All services we offer in-person or digitally require retainer payments. Using the contact form, please supply as much detailed information as possible about your claim. We will asses the information, and reply promptly.
Scheduling
On-site inspection work and meetings will be scheduled after receipt of retainer fee.
Research
Conducting interviews, reading, and preparing demonstrations.
Field Work
Collecting all scientific evidence, observations, and physical assessments of a project.
Report Time
After conclusion of our field work, we will repair a written report for the commissioning party.
Fee Schedule
Fee schedule available upon request.